Recording: COST Info Day
12. 4. 2021 -
 Online COST Information Day took place on February 23, 2021.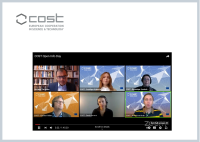 An online COST Info Day was held on 23 February 2021 to encourage researchers to take part in COST Actions and to introduce and highlight the benefits of pan-European networking.
The COST team provided detailed information on how to launch or join the COST Action. Participants had the occasion to learn more about the COST Association, to discover what activities are reimbursed but also to appreciate and understand the procedures to apply.  It was also emphasised how COST has adapted its networking tools to the pandemic situation, and has made several virtual settings available to enable Action partners to meet and pursue their activities.
More information and a recording of the event are available here.